T
o continue  the previous edition in the title "Birds of Solomon Islands 2005 (Part 3)- Parrots", detail of the depicted parrot species such as: Finsch's pygmy parrot (Micropsitta finschii), Cardinal Lory (Chalcopsitta cardinalis), Solomons Cockatoo (Cacatua ducorpsii),  Eclectus Parrot (Eclectus roratus), Rainbow Lorikeet, (Trichoglossus haematodus), Song Parrot (Geoffroyus heteroclitus) have described in the following paragraphs.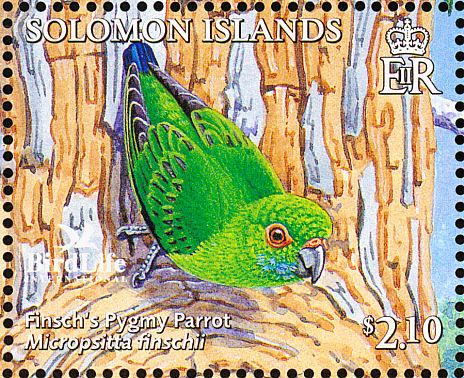 Finsch's Pygmy Parrot (
Micropsitta finschii)
Finsch's pygmy parrot (Micropsitta finschii), also known as the green or emerald pygmy parrot, is characterized by a green head and neck (which is unique among species of the genus Micropsitta). The typical length of a green pygmy parrot is 9.5 cm with an average weight of 12 g . Male and female individuals can be identified by slight differences in coloration
Fins

ch's pygmy parrots
are found in tropical rainforests up to an elevation of 900 m.The geographic range of this species includes Papua New Guinea, Solomon Islands, and the Bismarck Archipelago.