Following the previous issue in this blog, 
World Bird festival 2004 (Kingfisher) – Solomon Islands Part II
  , detail of the depicted bird species on each stamps comprises of the Beach Kingfisher (Todiramphus saurophaga), the Collared Kingfisher (Todiramphus chloris),  the Ultramarine Kingfisher (Todiramphus leucopygius), the Moustached Kingfisher (Actenoides bougainvillei), the Little Kingfisher (Alcedo pusilla), and the Variable Dwarf Kingfisher (Ceyx lepidus), described in the next paragraphs.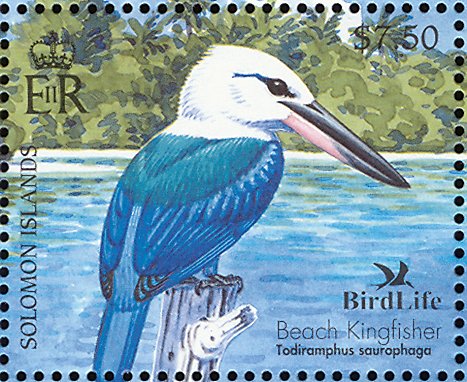 The Beach Kingfisher (Todiramphus saurophaga) is a species of bird in the Alcedinidae family and
found in Indonesia, Papua New Guinea, and Solomon Islands.
Its natural habitat is subtropical or tropical mangrove forests.
The population trend appears to be stable and for these reasons the species is evaluated as Least Concern.